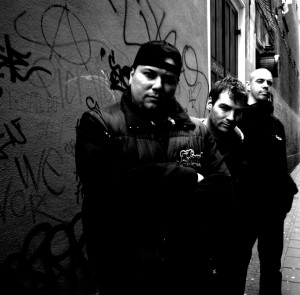 Kamikaze, around since 1997, is known for their brutal, pure and right in your face hardcore with the tightest heavy guitar, bass and drum sections on the scene. With over a 250 live performances in the last few years, Kamikaze has earned a excellent reputation as one of the fiercest live bands around, winning over hardcore and metal fans wherever they plugged in their instruments. Bonded like a hardcore family, Kamikaze's music has an unmistakable positive energy and honesty.
Kamikaze is know for its Do It Yourself (DIY) mentality:  all albums are 100% recorded, produced and written Kamikaze. Even the artwork is done by Kamikaze itself.
In 1998, Kamikaze recorded their first demo debut "Divine Wind" containing 9 tracks of aggressive and raw forms of hardcore, punk, rap and metal. After some changes in the line up, Kamikaze re-recorded their legendary "The Divine Wind" album with all of it's current band members around august 2001.
The second album was called "Vile vision of hardcore", containing 21 tracks of pure and aggressive music. In 2004 Kamikaze recorded their 3rd CD called "Pororoca" which contained 10 tracks of brutal hardcore metal. In 2006 Kamikaze released their 4th album called: "Masters of the Universe", with 6 songs very strong songs. In 2011, five years after their previous release, the 5th album called "12.5" was released. Referring to 12.5 years of hardcore and metal dedication, Kamikaze sounds better then ever before on again a legendary album.
Late 2015 Kamikaze started sorting out the countless number of jamsessions to compile new work for the new album.  This album, titled "MCMXCVII", is illustrating over 19 years of hardcore tradition, and will probably have 19 new songs. In 2017 Kamikaze will celebrate their 20th anniversary.